Information, Advice and Guidance CV Template + Tips and Download
Tip: Use the IAG CV Template below as an example to help you write your own personal and fully custom CV.
Ben McLean
72 Manor Close
Dockray
CA11 6UD
Mob: 0000 336 2358       Email: mclean.b@cvplaza.com
Personal profile statement
I am a skilled, hardworking and confident IAG Officer with extensive experience in dealing with internal and external stakeholders at all levels. My high passion for customer service and community work has enabled me to have a unique background in project management, student recruitment and client relationships.
Achievements
Completed many projects on time and within budget
"Executive Person of the Year" Award by Students
Education
| | | | |
| --- | --- | --- | --- |
| 2011 – 2013 | BA Social Welfare Law, Policy & Advice Practice | UCC | Grade achieved: [2:2] |
Relevant Modules:
Legal Theory and Practice
Welfare benefits and Money
The Context of Advice Services
Communication Skills
Management of Supporting Services
2009 – 2011
Results: English: A Mathematics: B Business: B
A Levels
Cadbury College
Work experience
| | |
| --- | --- |
| Dec 2013 – Present | IAG Officer           Bird College |
Main duties performed:
Provide information, advice and guidance to current and past students
Act as the first point of contact for any student services issue
Helping students with their studies
Providing job application support (e.g. Writing CV, Cover Letter etc.)
Advising students on any finance, financing or outreach matters and eligibility
Help organize events (graduation, opening day, etc.)
Assisting with UCAS applications (such as personal statements)
Recruiting students (from initial interview and assessment to registration)
Promoting the College's health and safety, equity and diversity policies
Determination of Individual Action Plans
Organizing and running group and drop sessions
Send course information to potential students (and external organizations)
Finding work placements and internships for students
Participating in the design and production of various promotional materials
Undertake general administrative affairs at the Student Services office
| | |
| --- | --- |
| July 2013 – Dec 2013 | IAG Advisor         West London Academy |
Main duties performed:
Provide students with information and support throughout their studies
Helping students find local companies, community centers and shops
Entering information into the company's information management system
Interviews with prospective students
Checking qualifications
Providing unbiased Career Advice (eg career progression and opportunities, best job search practices, CV and Cover Letter writing, etc.)
Advertising job opportunities for students
Establishing and maintaining effective relationships with employers
To assist the organization of the Academy's Open Days
Provide administrative support to the rest of the team
Qualifications
Level 2 NVQ in Advice and Guidance – City & Guilds
Level 2 Award in Information, Advice or Guidance – QCF
European Computer Driving Licence (ECDL) – BCS
Skills
Outstanding communication and interpersonal skills
The ability to propose student problems and solutions
Exceptional time management and organizational skills
IT (Microsoft Office and typing speed of 65 words per minute)
Professional approach to dealing with complaints from students
Www cv template,#Free cv english template,#How to write curriculum vitae,#Preparation of cv,#Professional cv content,#How to create good cv,#How to write resume or cv,#wikiHow CV,#ow do you write a general CV?,#What details are needed for a CV?,#What is the best template for a CV?,#What does a good CV look like 2020?,#What should not be included in a CV?,#How do I make a good CV ever?,#Are CV templates good?,#Where can I get a free CV template?,#How do I write my first CV at 16?,#What is personal details in CV?,#What's the difference between CV and resume?,#How can I make my CV stand out?,#How do I write my first CV?,#What is the CV format?,#How do you write a 2020 CV?,#What does a good CV look like?,#Why does a CV get rejected?,#How do you write a killer resume that makes you stand out?,#What should a 16 year old CV look like?,#What should a 15 year old put on a CV?,#Does a 16 year old need a resume?
Hobbies and interests
I love to spend quality time with my family and friends in my spare time; discovering new aspects of life and participating in social events. I am also a volunteer at my local library where I help visitors find the items and services they are looking for.
References
Mr Kai John
Head of Student Services, WL Academy
Address:
 2 Broomfield Rd, CV7 2ZZ
Tel:
 0000 352 4678
Email:
kai.john@hotmail.co.uk
Please note: the above CV Example is presented in the UK format and layout.
Preview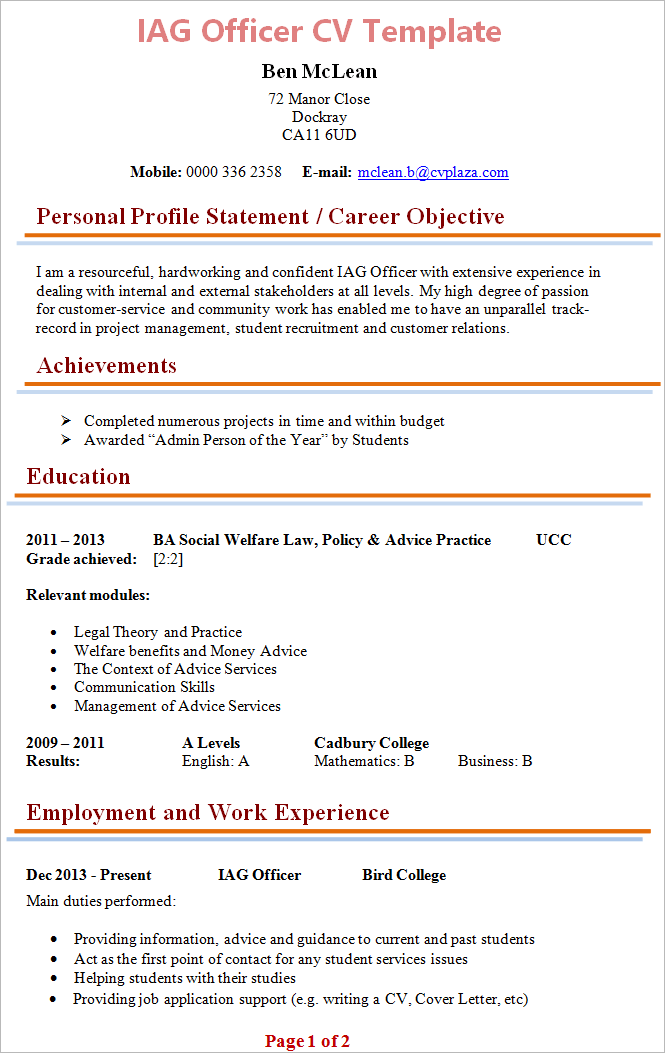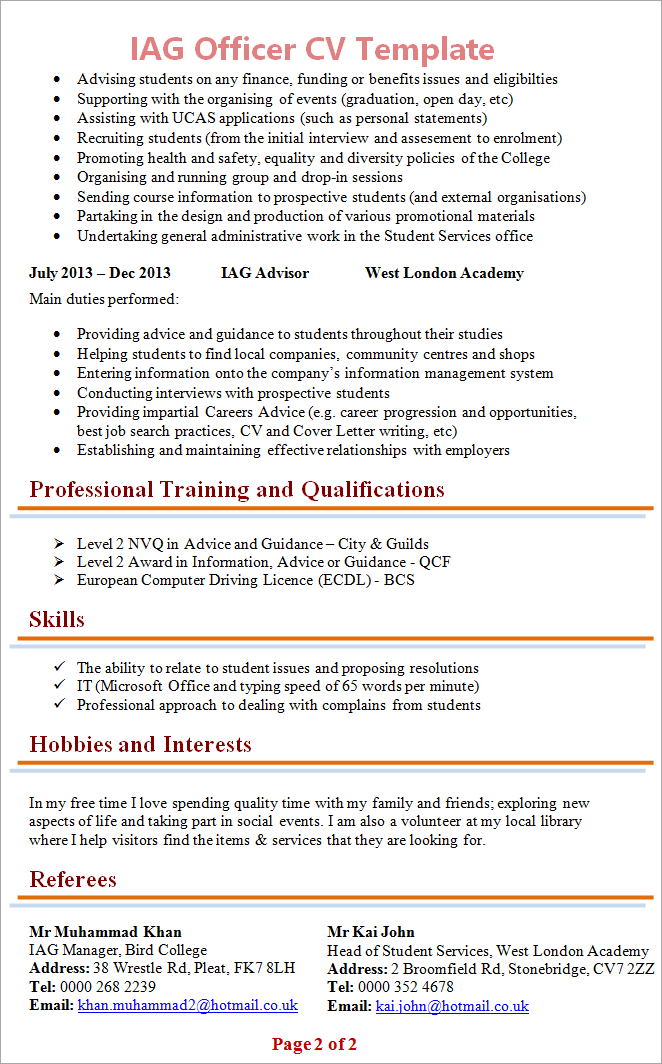 Download
Click here to download the above CV Sample (blank).
COLLECTION: You may also want to browse through our collection of Free CV Templates and download any of the editable CVs (in Microsoft Word format and convertible to PDF) to create your own CV.
Tips
The most important task of an IAG Officer is to provide impartial advice to students or clients who need to make informed decisions about their future. Therefore, you should make sure that your CV covers all the aspects or skills needed to do this; communication skills (face-to-face, by phone and e-mail), professionalism and respect for privacy, courtesy, sensitivity, and being able to motivate and encourage people to take appropriate action
Good Luck!