Multimedia CV Template + Tips and Download
Tip: Use the following Multimedia CV Template as an example to help you write your own personal and fully customized CV.
Nathan Hall
33 East Street
Mansfield
NG18 1TR
Mob: 078 5804 2012       Email: NathanHall78@hotmail.com
Personal profile statement
I am an experienced, talented and hard-working multimedia graduate with excellent media creation and problem solving skills. I am committed to producing elegant, well-structured content that adheres to best practices and standards across the audio, video, multimedia and data spectrum.
Moreover, I am a confident and outgoing individual with top-notch technical skills who enjoy facing a challenge. I am very ambitious and aim to learn new skills and move forward as best I can in my role. I am always striving to provide an excellent and customer-oriented service to all stakeholders.
Achievements
Employee of the Month Award (First Learning Academy)
Participation and Punctuality Star (London City College)
Excellent Performance Award, July 2013 (OCC Media)
Education
| | | | |
| --- | --- | --- | --- |
| 2007 – 2010 | BSc Multimedia Computing (Hons) | Aston University | Degree: [2:1] |
Relevant Modules:
Programming
Internet Computing
Video Production and Recording
Multimedia Science
Image and Video Processing
Human-Computer Interaction
Employability Skills for IT Professionals
2005 – 2007
Results: Media: A* Film: B Art: A
A Levels
London City College
Work experience
| | |
| --- | --- |
| May 2011 – Present | Multimedia Technician           First Learning Academy |
Main duties performed:
Supporting staff and students in the use of Audio / Visual (AV) equipment to aid learning;
Offers assistance in using PCs, Macs, Notebooks, Printers and Classroom projectors;
Diagnose and resolve any hardware and software problems (when and when needed);
Maintenance and monitoring of equipment reservation system and digital video library;
Providing technical assistance to staff for IT and Media classes and workshops;
Pre / post production of video and sound recordings;
Educate users on using equipment such as computers, projectors, and interactive displays.
| | |
| --- | --- |
| May 2011 – Present | Multimedia Designer and Editor         OCC Media |
Main duties performed:
Creating logos, posters, brochures and promotional brochures;
To design and develop the company's websites;
Writing and editing content for the company website and intranet;
Photographing and filming the products;
Editing images in Photoshop and Adobe Illustrator;
Creating visual advertisements for print and online purposes.
| | |
| --- | --- |
| Sept 2009 – May 2011 | Video Producer         P3 Ltd. |
Main duties performed:
Working with organizations and groups to record film and visual clips;
Research, planning and script writing for media productions;
Filming, editing and producing DVD titles using a variety of tools and equipment.
English resume template,#One-page CV template,#CV samples download,#CV examples PDF,#English CV sample,#Download resume templates,#Resume examples doc,#Resume template Word
How do I download a CV template from Word?,#How do you lay out skills on a CV?,#What is the best template for a CV?,#How do I write a simple CV?,#What does a good CV look like 2020?,#How do I send my CV via email?,#Are CV templates good?,#Where can I get a free CV template?,#What is the best free CV template?,#How do I list my skills on a resume 2020?,#How do you write computer skills on a CV?,#How do you write technical skills on a CV?,#How do I make my CV a PDF?,#What is difference between CV and resume?,#How can I make CV in Word?,#How can I make CV on my laptop?,#How can I make my CV online?,#What is the CV format?,#What are your top 5 skills?,#What are your top 3 technical skills?,#What are your top 3 skills?,#How do I get my resume noticed?,#What are some hard skills to put on a resume?,#How do I list my skills on a resume 2019?
| | |
| --- | --- |
| Jan 2008 – Mar 2008 | Post Production Assistant (intern)         Tonic Media Ltd. |
Main duties performed:
Capture and transfer data from the recorder to Macs;
Organizing recordings in folders and subdirectories;
Editing video, audio and voiceovers using Adobe Premiere Pro.
Skills
Expert in Microsoft Office: Word, Excel, Access, Outlook and PowerPoint
Computer literate in multiple Operating Systems: Window, MAC and Linux
Programming: Java, C++, CSS and HTML
Camera/Lighting/Sound Production
Post-Production Applications: Final Cut Pro, After Effects and Photoshop.
Full clean UK Driving License
Hobbies and interests
I set up my own small studio where I spent a lot of time developing and improving my skills in the planning, recording, processing and post production processes of Multimedia. In my spare time, I also enjoy playing football, playing basketball, socializing with my friends and family, and keeping up with the rapidly changing technology world.
References
Ms Jasmine Reed
Personal Tutor, London City College
Address:
 8 Redcliffe Way, Woodhurst, P17 7SL
Tel:
 0430 7556 1092
Email:
reed.j1@lcc.ac.uk
Dr Charlie Chan
Senior Multimedia Lecturer, Aston University
Address:
 7 Victoria Rd, Abington, CB1 6UR
Tel:
 0378 7702 0868
Email:
chan.c@aston.ac.uk
Please note: The CV Example above is provided in UK format and layout.
Preview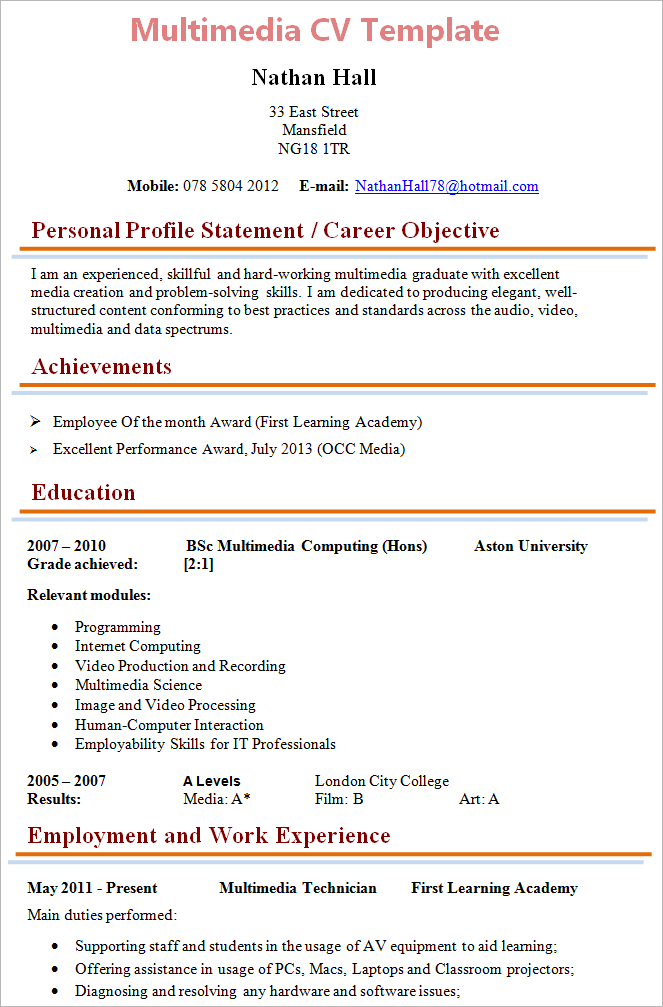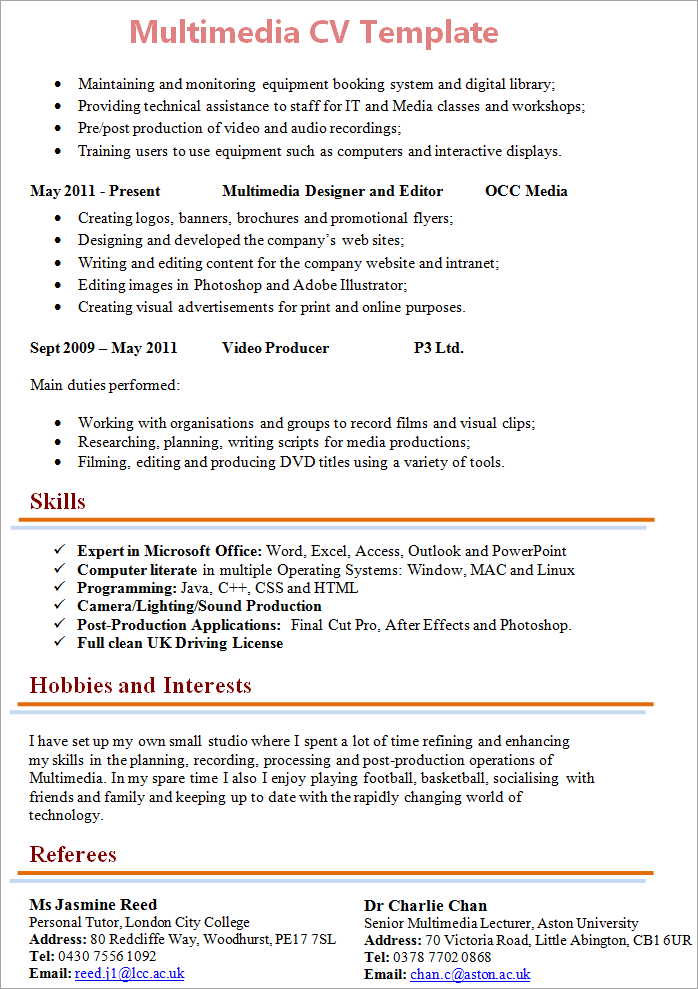 Download
Click here to download the above CV Sample (blank).
COLLECTION: You may want to browse through our collection of Free CV Templates and download any of the editable CVs (available in Microsoft Word format and can be converted to PDF) to create your own.
Tips
This role requires you to have an excellent technical knowledge in the Media, IT and Technology fields, so your CV should largely reflect your knowledge and experience in these fields. Important: Aim to write your CV in a way that can be understood by both technical and non-technical readers.
If you do not have any professional work experience, you can add your hobbies like shooting, editing and uploading homemade videos to YouTube in the "Hobbies and Interests" section.
Good Luck!