How to Email a Resume and Cover Letter to an Employer
While on a job hunt, sending your resume and cover letter by email is a standard part of the process. So what's the best way to email a resume?
Potential employers are quick to make decisions, so making a positive first impression is essential. The email you send is the first thing they see, so it's important to get it right.
If you've spent time writing a compelling professional resume, it would be tragic to hit the first hurdle by making the mistake of emailing a resume and cover letter.
Thankfully it's not rocket science. Using this step-by-step walkthrough of how to email a resume to a potential employer will help you make your resume noticed.
Follow the employers' instructions
When sending your resume by e-mail, it is important to follow the employer's instructions regarding the letter. Failure to do so indicates that you are not reading the job posting correctly or that you are not paying attention to details.
The job posting normally gives detailed instructions on how to send your resume in an email. Details usually indicate, among other information, the resume format you should use, what you should include in the subject line of the email, which attachments you should send, and when the deadline is.
How to choose the correct resume file format
Employers normally require resumes to be submitted as a PDF document or a Word document (.doc). If the required CV format is not specified in the job posting, you can send your resume by e-mail as a .pdf or .doc.
There are several mistakes candidates make with their resumes, so before you save it, be sure to avoid the most common mistakes when writing a resume.
To save your resume as a Word document, click "File", "Save As", then you should have the option to save as a Word (.doc or .docx) file.
How you save your resume as PDF depends on the word processing software you use. Normally, you can click "File", "Print as PDF" / "Export as PDF" and then save the file. Read some tips on choosing a good resume file name to make sure it's named properly.
Writing a cover letter
Depending on the position, you may need to write a cover letter to provide additional information about your experience, expertise, why you applied for the job, and why you are suitable for the position.
Sometimes employers give specific instructions on what you should write in your cover letter, make sure you follow them. The resume cover letter should show you why you are a strong candidate for a position.
The cover letter should be written as well as your resume and other documents you send to an employer. Use formal English.
There are two e-mail formats that you can use to attach your cover letter. You can copy and paste it into the main body of the email or insert it as a PDF or Word document. What do you say in an email when sending your resume and cover letter?,#What should I write in email when sending resume?,#Should you email an employer after submitting a resume?,#How do you send your resume through email?,#Should I send my resume in Word or PDF?,#How do you email a friend asking for a job?,#How do you write a polite follow up email examples?,#How long after submitting a resume should you follow up?,#How long does it take to hear back after submitting a resume?,#What do you say in an email when applying for a job?,#How do you send an email with an attachment?,#How do you write an email to apply for a job?,#Should a cover letter be in the email or attached?,#How do I write a good cover letter?,#How do you begin a cover letter?,#What can I say instead of please find attached?,#How do I send documents to HR by email?,#How do you reference an attachment in a report?,#How do you ask politely if they are hiring?,#How do you politely ask for a job opportunity?,#How do you approach a company for a job?,#How do you end a cover letter?,#What is the best format to send a document by email?,#Why do employers want resume in Word format?
If you send the CV cover email as an attachment, you still need to write an email to attach the CV. Write a formal email stating why you applied for the position and your CV and cover letter are attached.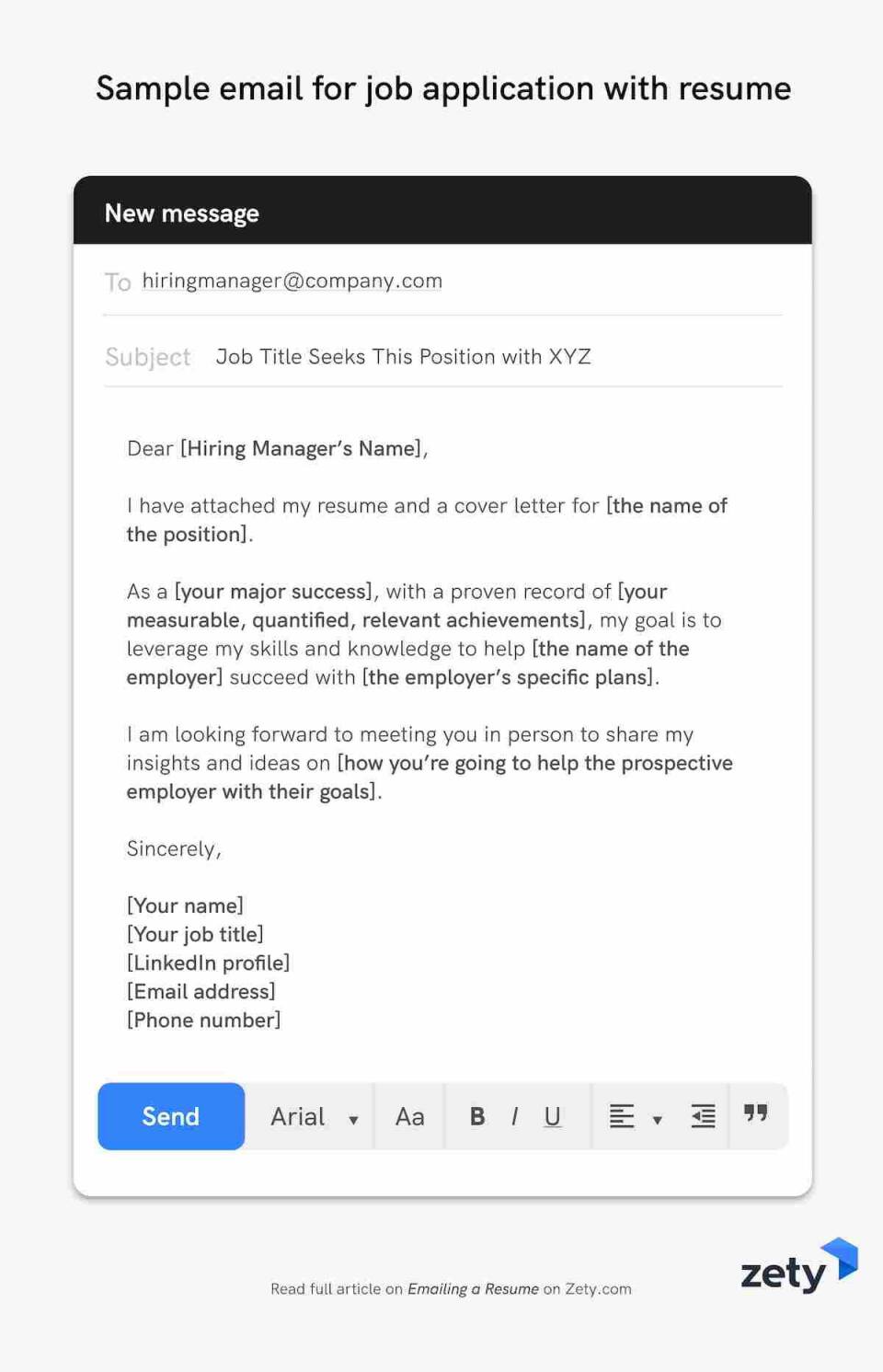 How to email a resume to a company: final checklist
After you've written your resume and cover letter, there are some important things to check out before sending the email. There are some typical rookie mistakes to avoid, using a resume builder will help you achieve this.
Keep it simple
Don't use a fun, crazy or alternative font, use a simple font like Arial or Times New Roman. Also, avoid using HTML because you don't know if the employer can see it..
Send attachments correctly
It's unbelievable how many people forget to include their resume in their email. This looks forgetful and amateurish. Before sending the email, double check that you have added all the correct attachments.
Don't Forget the Details
The email with your resume should include a subject line and a signature with your contact information. The subject line should include the position you applied for, if you don't include it, your email may never open.
Proofread everything many times
Typos and minor mistakes look unprofessional. Before emailing a resume, check all documents. Check for clarity, spelling and grammar. Also pay special attention to the names.