How long should a Cover Letter be?
The length of your cover letter is an important consideration when applying for a job. If it's too short, it may give the impression that you apply in a hurry and are not interested. On the other hand, employers simply don't want to read long cover letters just because they don't have time.
Should you send a cover letter? As a general rule, you should always send a cover letter with your resume, unless the employer specifically tells you not to. It is your opportunity to catch the employer's attention and leave the very important positive first impression.
You need to establish a connection with the employer and show that you have the basic features they are looking for. You need to analyze the job posting to understand what they are looking for and then complete your cover letter.
Your cover letter should work with your resume, and both should be strong. Using a resume builder is the most efficient way to create a professional resume.
How many words should a cover letter be?
Your cover letter should not be longer than 350 words and should be kept on a single page. It should highlight the most relevant skills, experiences or qualifications. It should not contain all your achievements, your resume is for that.
The maximum limit for cover letter length is 350 words, not the recommended limit. Ideally, it should be shorter provided you can hit the nail on your head.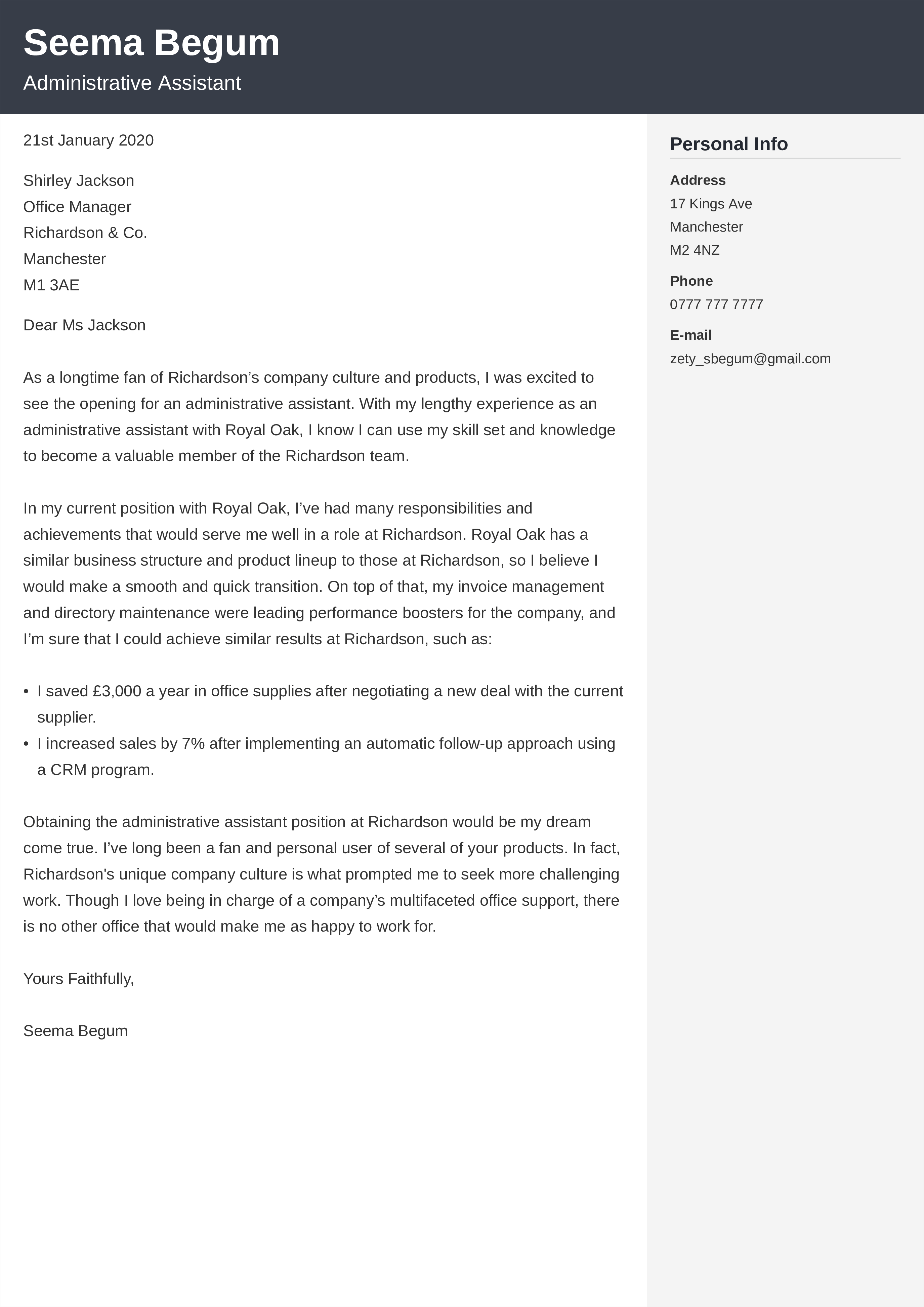 Cover letter structure
Your cover letter should include the following sections. Make sure the different pieces are attractively placed. If you're writing an email, you don't need to include the employer's contact information or date.
Contact information: name, address, city. state, postal code, phone number, e-mail address.
History
Employer contact information: name, address, city. state, postal code, phone number, e-mail address.
Cover letter opening: Dear Sir / Madam. Last name,
First paragraph: Add some information about the position you are applying for, including the job title, and how you hear about the position. Briefly state why you are a strong candidate for the position.
Second paragraph: Expand why your work experience and qualifications make you the ideal person for the job. Focus on a few main points and keep it short.
Third paragraph: Thank the employer for considering your application and end with a positive note. You could say you're looking forward to their answers.
Cover letter ending: Sincerely,
Your name
Is a 500 word cover letter too long?,#How many paragraphs should be in a cover letter?,#Is a 350 word cover letter too long?,#Is a 400 word cover letter too long?,#How do I make my cover letter stand out?,#How do you write a powerful cover letter?,#Is it OK to use the same cover letter?,#Is a long cover letter bad?,#What will a good cover letter get you?,#What are the 4 parts of a cover letter?,#What are the 3 types of cover letters?,#Is the cover letter dead?,#Is it OK to have a 2 page cover letter?,#How do you start an interesting cover letter?,#Can cover letter be too long?,#Do Cover Letters Matter 2020?,#Do employers read cover letters?,#Should you include a cover letter if it is not asked for?,#What employers look for in a cover letter?,#What are 3 things that you should definitely not do on your cover letter?,#Should you say I believe in a cover letter?
Concise, simple, and readable
Your cover letter should be easy to read. For the sake of variety, occasionally use short sentences with longer ones. Avoid too much punctuation by using mostly periods and not using too many commas.
Decide the points you want to emphasize them and write them down as clearly as possible. You're not writing an academic article or a text message to a friend. Take it seriously and don't feel the need to show your vocabulary. Try to avoid stereotypes as they are ineffective.
Cover letter format
Readability should again be the goal. Make sure there is plenty of white space and the text doesn't look crowded. Leave margins and space between paragraphs and different parts of the cover letter formatting.
Since you don't want the reader to squint, use an easy-to-read font like Arial in size 11 or 12. Make sure to align your entire letter to the left.
Check for mistakes
Correct your cover letter at least twice before sending it. This is one of the best cover letter apps, as typos and other stupid mistakes make a bad first impression.
If you want to show that you are a professional, make sure that both your cover letter and resume are ready from scratch. Spotting your own mistakes can be difficult, so if possible, ask someone to look at it.
Read a guide on how to write a resume that maximizes your chances of reaching the interview stage.