Email Cover Letter and CV | Sending Tips and Examples
What is an email cover letter?
The email cover letter is actually a job application email that you apply for a job. The email must include your cover letter in the body of the email or as an attachment and your CV as a separate attachment.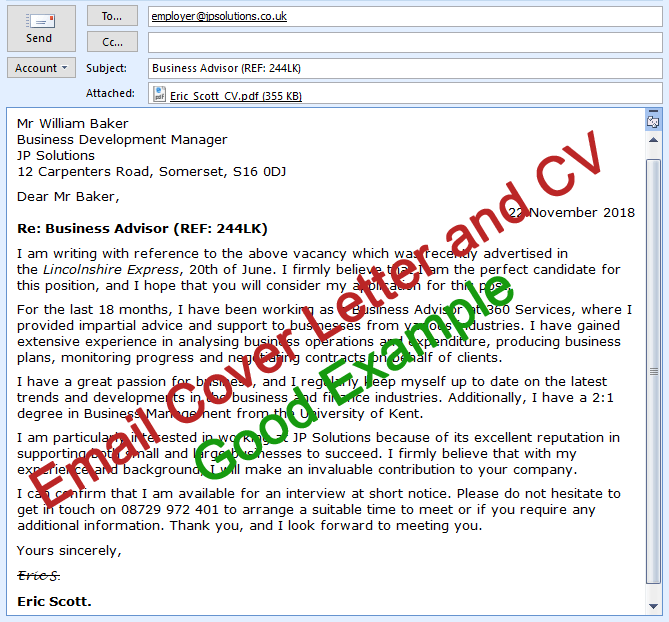 Do you need to send your CV and cover letter via Email?
With the enormous technological boom over the past decade, we've seen a dramatic increase in email applications. Sending emails is free, doesn't require a stamp, you don't need to take a trip to the post office or the company you are applying for Everything happens in seconds and at the touch of a button.
There are two main reasons for emailing the recruiter:
When you apply for a job
When you ask about job opportunities at their company
In this guide, we'll focus on applying for previously posted jobs. However, keep reading as there are tons of tips and examples for those looking to learn about job opportunities via email.
The format of an email cover letter + template
The format of an email cover letter is slightly different from the format of a standard cover letter. For example, you do not need to add your personal information such as your name and address to the right of the letter because your attached CV will already contain all this information. Moreover, it will take up a very valuable place.
Your e-mail to the recruiter should be in the following format: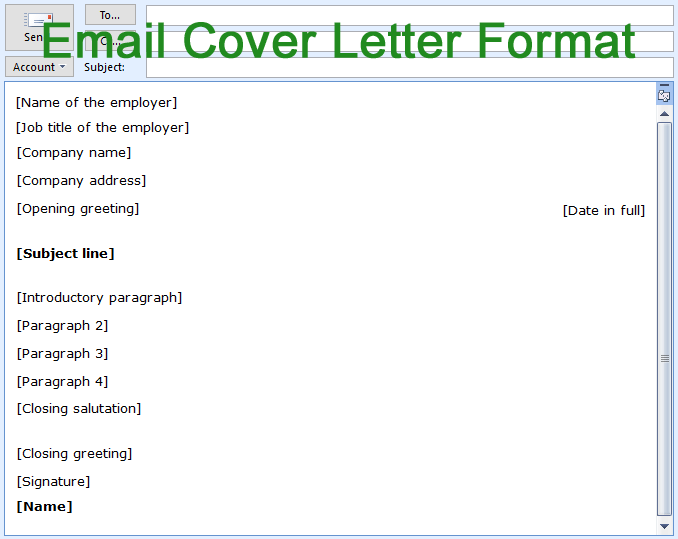 Click here to download this template.
Before you start…
1. Have your perfect CV and cover letter ready
Before you start drafting your email, be sure to write and prepare your resume and cover letter. Check out our How to Write a Cover Letter and How to Write a CV for more tips and examples.
2. Be formal
The job application process is a formal process. Therefore, you should have a formal approach to writing your email job application.
Don't use abbreviations (eg me instead of "I" or "Let go" instead of "Let go")
Write in full sentences
Write in paragraphs (not short lines like you do with text messages)
Use a formal greeting (instead of "Hello", "Hello" or "What's up?", Use "Dear Sir / Madam", "Dear [Last Name]," or "Who may be interested
Do not write in capital letters (READING TEXT IN CAPITAL LETTERS IS NOT BEAUTIFUL!)
You can find more information on the official post here.
3. Use a professional email address
When contacting the employer, you should use a professional email address.
Should be:
It should be short in length
It should contain your name
It shouldn't contain any/many numbers
Acceptable examples:
Saima.Khan@gmail.com
MarkJJ@hotmail.co.uk
Julia-Philips@aol.com
Unacceptable examples:
Partygirl92@gmail.com
Badboyz2@hotmail.co.uk
72h27_sdh27@numbers.com
4. Keep it short and to the point
You only have one chance to get the prospective employer's attention
, so keep the letter short and to the point. Employers tend to only scan resumes and cover letters for less than a minute. Anything longer than a single edge of A4 will likely not be read or ignored. Why should we take this chance? You will have many more opportunities later in the recruitment process, including the job interview, to fully influence the prospective employer.
5. Write the content of the email in a separate document first
It is highly recommended that you write your letter in a separate Word document first, rather than writing it all at once in the actual email client. This is because you are less likely to lose your job due to your internet connection dropping or software crashing while writing your letter.
It also gives you additional time to accurately check your written document for grammar and spelling errors.
How to send a cover letter and CV via email
Let's get started…
1. Email subject line for job application
The subject of your email should be the job position followed by the job ID or job reference number:
IT Manager (ID: W124)
Receptionist (Job Ref. A2014)
Cleaner (Job ID: AFT2421)
That's all it takes.
If you decide to add something extra, eg. Please keep it short, including your name or text message, as there is a limit on how much of the subject line will be shown to the recruiter when it reaches the inbox.
Do not write your subject line in capital letters
Some applicants, in a desperate attempt to separate their email from others, capitalize the subject line of their email as follows:
EXECUTIVE MARKETING OFFICER (REF. A92134)
This is not recommended for two reasons:
Reading is very bad and;
You feel either too helpless or too aggressive. In the worst case scenario, you will come across as both.
QUESTION: Should you write the cover letter in the body of the email or send it as an attachment?
Some employers prefer attachments while others prefer the letter in the body of the email. Please check company requirements in the job posting. If the company didn't specify their preference, it's up to you how you want to send your cover letter to them.
Decision time!
As stated earlier, there are two acceptable ways to do this:
1. Include the cover letter as an attached file
If you decide to include your cover letter separately in the email, always write a short message in the body of the email identifying yourself and explaining the reason for sending the email to the recruiter – don't leave it blank!
The content of your e-mail text should be short, informative and appropriate to the subject: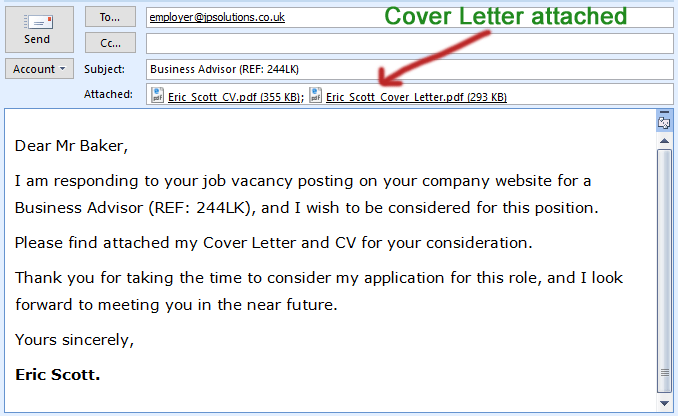 Another good example:
Dear Mrs. Kettle,
Please find attached my CV and Cover Letter for the position of Senior Research Fellow.
I look forward to hearing from you!
Best regards,
Michael Harper.
2. Write the cover letter in the body of the email
This is the most popular way to send an email job application.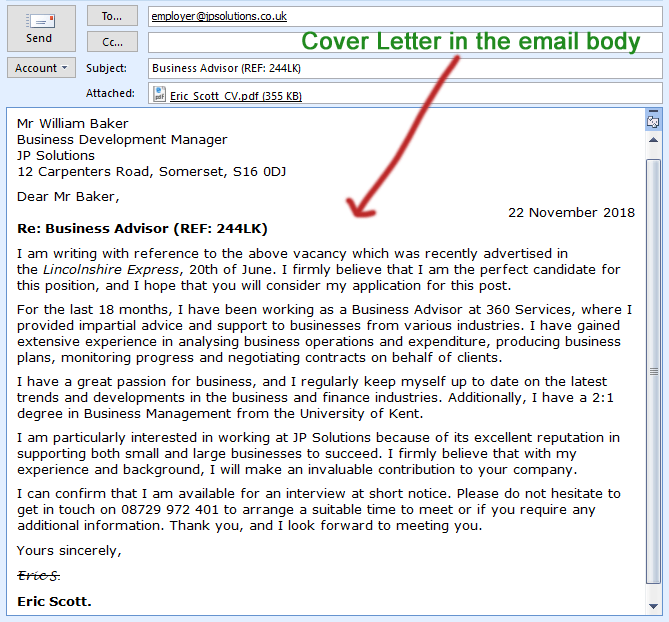 "Which is better?" I can already hear you asking. glad you asked.
Our recommendation is to write a cover letter in the body of the email. It gives you the opportunity to make a strong and memorable first impression and allows you to attract the attention of the prospective employer in seconds.
On the other hand, if you post it as an attachment, the employer must take the additional step of finding and opening your letter to read. Some recruiters will not open attachments for fear of infecting their computers.
Warning: Do not include the same cover letter in the body of the email and as a file attachment. This is a strange thing to do and makes you look very unstable.
The rest of the guide will show you step by step how to write your email cover letter in the body of your email:
How to start an email
2. Employer's personal details
The first few lines of your letter should be personal information of the recruiter:
Recruiter's full name
Recruiter's job title
Company name
Company address
Good example:

3. Opening salutation/greeting
The next line of your cover letter is the opening greeting and should be written in the following format:
"Dear" is followed by the title of honor (Mr., Mrs., etc.) and the last name.
Tips:
Always use formal greetings (eg "Dear Sir / Madam", "Dear [Last Name]" or "Hey", "Hello" or "What news?"
It is always best to find the name of the employer you are writing the letter to. This makes the letter more personal and persuasive.
If you are addressing the employer by name, specify only the last name (Dear Mr Kent), not the full name (Dear Mr Simon Kent).
Good example:

4. Date
The next line should contain today's date exactly (November 10, 2018 instead of 11/10/18), right-aligned.
Good example:

5. Introductory paragraph
State the reason why you are writing this covering letter.
For example:
Job Role: Electrical Engineer
I am writing to express my interest in the role of Electrical Engineer, listed on The Worcester News, 19 March 2017. After carefully reviewing the job requirements, I feel I have all the necessary experience and technical skills to be successful in this position. I fully appreciate your interest.
Tips:
These are the first few sentences the potential employer will read about you; Make sure the introductory paragraph is short, precise, and written for high impact.
6. Paragraph 2
In this paragraph, clearly state your reasons for being a suitable candidate for this position. Mention your relevant education, qualifications, work experience, strengths, skills and abilities.
For example:
Job Role: Librarian
I graduated from the University of Essex in Librarianship in 2014 with a first class degree and worked as a Junior Librarian at Summerfield College for a year. Both my education and work experience gave me a great insight into the purpose, function and processes of libraries. I trained in all standard library information and data management systems.
Tips:
Try to back up your expressions with real-world examples. For example, if you wrote that "you have an excellent track record in sales"; Back up with concrete and verifiable performance information, eg. Noting that "you increased the company's sales by 23% in six months."
7. Paragraph 3
After paragraph 2, consider more reasons why you would be the ideal candidate for this job position.
For example:
Job Role: Operations Manager
In 2015, I graduated from Queen's University Belfast with a 2: 1 degree in Business, this fueled my passion for business and economics. I have studied a wide variety of topics from Marketing Principles and Corporate Responsibilities to Leading Change and Strategic Management. I am a determined, ambitious and analytical individual with the ability to perfectly analyze current business operations and provide meaningful solutions based on findings.
8. Paragraph 4
This will be the informative last paragraph of your cover letter. Mention other outlets you own and explain why you are interested in working for this company.
For example:
Job Role: Recruitment Officer
I make it particularly attractive to join your organization because of the importance it places on long-term growth and education within the company. The challenges motivate me and I believe that as a competent Recruitment Officer I can bring together my previous knowledge and skills. I am confident that my impressive accomplishments over the past few years have proven that I will be a valuable asset to Lancefield Recruitment.
Tips:
Research about the company you are applying to and use your findings to draft this paragraph. This will make you look relevant, intelligent and resourceful in the eyes of the potential employer.
How to end the email
9. Closing statement
The last paragraph is usually a polite call to action where you state that you are looking forward to meeting with the prospective employer. It should also include a reference to your CV that you add to the application.
Useful phrases you can use:
Please find my attached CV for your evaluation.
I attached my CV to this email.
My resume is attached to this e-mail for your evaluation.
Good example:

10. Closing salutation
The closing greetings should be "Yours faithfully" only if you addressed the employer by name at the beginning of the letter (for example, Dear Ms. Sanders).
If you used the words "Dear Sir / Madam" or "Who may concern" as the opening greeting of your letter, it should end with "Yours sincerely".
Other alternatives you can use instead of "Yours sincerely":
Best regards
Kind regards
Best Wishes
11. Signature & Sender's name
Sign the letter with a signature and then your name.
If you do not have a scanned or electronic signature, you can write the signature in the following format:
Full name
Email address
Telephone number
LinkedIn profile – optional
For example:

That is it – you should now have a perfectly written email cover letter!
Tips
Don't rush to write and send your email all at once – you'll likely forget to add important things or make a lot of real, grammar, or spelling mistakes. First write a draft version, take a break, and then come back to review again after a few hours.
Don't forget to add your files! You have one chance to make a good impression, be careful not to confuse this with clumsy mistakes.
First send yourself a test email to double check the format of the email and whether attachments can be opened.
Give attachments identifiable filenames, eg "Julia_McCaree_CV.pdf" is better than "newhkh34.pdf"
FAQs
Should I send my documents in Word (.doc or .docx) or PDF format?
Both methods are acceptable. However, we recommend that you send it as a PDF file as it will preserve the format and presentation of your documents; including margins, padding, space, and indent.
How do I know if my job application email has been received?
Unfortunately, you can't be sure if the employer has opened your email or read it unless they tell you. Some email clients allow you to request a "Read" receipt after you open your sending email. However, you will only receive a "Read" receipt if the recipient decides to send it to you.
How many days should I follow up my application?
Most open positions will indicate the time frame you should hear from them if you are shortlisted for an interview. Many vacancies will say: "If you don't hear from us within 2 weeks, please assume your application was unsuccessful this time." However, if this is not stated, you should contact them after a week to track your initial application.
Should I use the "high importance" flag when submitting my application?
No it's not real. The flag of high importance lost its value many years ago. Also, why is your job application email more important or urgent than other senders, and you are likely to come across it as rude? More than 90% of emails are sent without emails.
Good luck!