Who is Dillian Whyte? Where is Dillian Whyte from? How old is Dillian Whyte?
English boxer Dillian Whyte of Jameyka has won 16 games in 16 games.
Jamaica origin… His paternal grandfather Patrick Whyte is Irish, Whyte surname, comes from there. He came to England in 1990 at the age of 12. His father and grandfather were boxers fighting bare hands.
He became a father when he was only 13 years old in England. He is now 27 years old and has a 14 year old son. He also has other children. He had a very difficult childhood and youth.
Dillian Whte says if he didn't go into combat sports he would be involved in crime and would be either in jail or in the grave, dim I was a failed student at school, boxing saved my life and changed my life completely değiştir…
His nickname is The Villain. (In the films, the main character's enemy is called Villain, for example the Joker in Batman, Darth Vader in Star Wars, Ivan Drago in Rocky.)
His other nickname is Sn Body Snatcher ". Literally "The Body Thief" lak A moniker used for fighting-mad people who are always inclined to fight.
It's 1,93m. Games usually weigh between 110-115 pounds. It weighs about the same weight as Joshua, but is 5 cm shorter, unlike Joshua and has a thicker appearance. "Dillian is fat, he doesn't train hard enough, he doesn't stand a chance, J says Joshua.
He started martial arts with kickboxing and mixed martial arts… He became British champion twice and European champion once. For 5 years in the United Kingdom (95 pounds and over) in the weight # 1 number. Kickboxing finished with 20 wins and 1 loss.
Boksa started to use his fists better in kickboxing. Later, when he realized that he could make money from the boxing, he continued boxing, saying that I could take better care of my family by boxing. I wish I had started with boxing from the beginning, there is also a statement şeklinde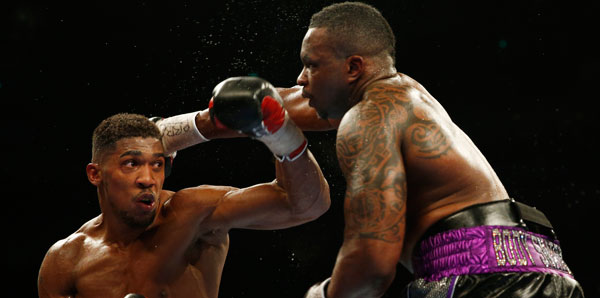 Doping Sentenced
Dillian Whyte was banned from boxing for two years on the grounds that he had used banned substances in the past. Between 2012 and 2014 he could not go to the ring. Whyte ım I didn't use doping. How could I have known there was a banned substance in a beverage I bought at the market? Anyway, that drink was banned 2 weeks ago, but it's still in the market. I do not blame, those who do not prevent this sale, "he explained. The anti-doping commission said "you should have received the help of a professional dietary expert etti and rejected this defense and upheld the sentence of 2 years men
The amateur boxing association said goodbye to the amateur because of problems with ABA and in 2011 he switched to professional boxing. If there was no problem, he thinks he would go to the 2012 Olympics, not Anthony Joshua. "My misfortune was his fortune" was another explanation that made the agenda…
Whyte's trainer is Johnathon Banks, a professional heavyweight boxer who also coaches Wladimir Klitschko.
Dillian Whyte is a former training partner of Klitschko, Fury and David Haye.
Dillian Whyte has knocked out all of his last 12 games since March 2012 nak
He won 13 out of his 16 professional matches in total, which took him no more than 4 rounds to knock out his opponents.
Boxers like Isaac Chamberlain, Johnny Garton, who knew Dillian Whyte and worked with him before, said Whyte wasn't easy to bite, and those who thought Joshua would knock him out early would recite whyte.
A total of 44 rounds, the average match per match 2.75 round. Knockout rate 81%…
Eddie Hearn says Dillian Whyte was cleared to fight amid failed test reports
Boxing Scene alleges Whyte failed drug test on 17 July
Hearn: 'Both fighters subject to Vada and Ukad testing'
Eddie Hearn has insisted Dillian Whyte was cleared to fight ahead of last weekend's heavyweight showdown against Oscar Rivas, after reports emerged claiming he had tested positive for a banned substance.
The 31-year-old outpointed Rivas at the 02 Arena to secure the WBC title and move himself into the sphere inhabited by Anthony Joshua, Tyson Fury and Deontay Wilder.
Dillian Whyte still has to wait for Deontay Wilder after Oscar Rivas win
Read more
Whyte, who has recorded 10 successive victories since the only defeat of his career to Joshua in 2016, is now the mandatory challenger for Deontay Wilder's WBC belt. On Wednesday, however, website Boxing Scene alleged that Whyte failed a test for a banned substance on 17 July.
Hearn, Whyte's promoter, responded on Twitter, saying: "Further to reports I can confirm that both Dillian Whyte and Oscar Rivas were subject to extensive Vada and Ukad testing for their bout. Both fighters were cleared to fight by both bodies and the BBBofC."
Ukad declined to comment when approached by the Press Association. The British Boxing Board of Control and Matchroom have also been approached for comment.
Whyte was previously banned for two years in 2012 after he was found to have taken a banned substance, methylhexaneamine, which he insisted he took unwittingly.