Customer Service CV Template + Tips and Download
Tip: Use the Customer Service CV Template below as an example to help you write your own personal and fully custom CV.
Liam Norton
4 Stone Cellar Road
Kingston Blount
OX9 3QG
Mob: 079 8882 6308       Email: LiamNorton2@live.co.uk
Personal profile statement
I am an energetic person with strong interpersonal and retail skills, bringing a new face to the business that will deliver exceptional customer service and creativity within a team or individually, ensuring the highest level of satisfaction of relevant stakeholders. I have more than two years of experience in the retail industry and I consider myself very knowledgeable and experienced in the sales process.
Achievements
Employee of the Month (JKS Ltd., March 2009)
Maintenance of a store for a week in the absence of the Store Manager (Tesco, 2011)
Winner of the 2011 HAYS Award for his outstanding educational achievement.
Education
| | | | |
| --- | --- | --- | --- |
| 2009 – 2012 | BA Business Management | The University of Manchester | Grade achieved: [2:1] |
Relevant Modules:
Organisational Behaviour and Analysis
Business Administration and Decision Making
Marketing Communications and Principles
Customer Relations
Introduction to HR Management
Final Year Project: "The effects of price reductions on product perception."
2007 – 2009
Results: English: A Mathematics: C Business: B
A Levels
Newtown College
Work experience
| | |
| --- | --- |
| Mar 2013 – Present | Customer Service Advisor           Pillow King |
Main duties performed:
General office tasks such as making phone calls, filing, sending marketing materials.
Advising clients on a wide range of company products and services;
Processing orders, receiving payments and making refunds;
Supervising temporary store assistants;
Dealing with complaints and compliments professionally;
Welcoming and welcoming visitors and potential customers inside and outside the store;
To inform the public about all promotions and special offers;
Ensuring that product information is accurate and up to date;
Organizing the production area and dealing with stock orders and documentation.
| | |
| --- | --- |
| Dec 2012 – Mar 2013 | Customer Service Assistant         Gemco |
Main duties performed:
Working with management and senior staff to achieve store goals and objectives;
Serving consumers at checkout; packaging, payment processing and refunds;
Replenishing stock and ensuring that goods and products are properly presented;
Ensuring Health and Safety procedures were followed at all times and by all stakeholders;
To handle questions, complaints and concerns in accordance with company policy.
| | |
| --- | --- |
| Jun 2012 – Dec 2012 | Retail Shop Assistant         Hit or Miss Ltd. |
Main duties performed:
Ensuring customers find the right product to meet their needs and requirements;
Hanging clothes on hangers, classifying and pricing products;
Release of new stocks for display on the production floor;
Packaging and / or disposal of goods not sold in the store;
Researching competitors' products, special offers and seasonal promotions.
Qualifications
Level 3 NVQ Diploma in Customer Service
First Aid at Work – HSE
Skills
Excellent communication, interpersonal and persuasive skills;
Ability to relate (and work with) people from different backgrounds and spheres of life;
The ability to deal with difficult individuals in a polite, professional but decisive manner (and always keeping in mind the motto: the customer is always right);
IT literate (with good knowledge of Microsoft Office).
How do I write a CV for customer service?,#How do you list customer service skills on a resume?,#What are the 7 basic steps to writing a CV?,#How do I make a catchy CV?,#What is the best template for a resume?,#What is the best CV template?,#What are the basic steps to write a CV?,#How do I write a simple CV?,#How do I write a CV 2020?,#What are 3 important qualities of customer service?,#What is good customer service examples?,#What qualifies as customer service experience?,#What skills are needed for customer service?,#How do I make customer service sound good on a resume?,#How do you list skills on a resume?,#How can I make my CV sound impressive?,#Is customer service a skill on resume?,#How do you make a professional bartender sound on a resume?,#What is a good customer service answer?,#How do you handle difficult customers?,#What is poor customer service?,#Which is better CV or resume?,#How do you start a personal statement for a CV?,#How can I write my CV online?
Hobbies and interests
My hobbies include reading, writing, watching television, spending time with my family and volunteering in local charity programs. I was very active in communities at the university and this led me to form the Business Partnership Community (BPS) with my peers.
References
Mr Jerry Sanford
Store Manager, Pillow King
Address:
 40 Edmond Rd, Chester, PA48 1DT
Tel:
 0223 2689 5879
Email:
s.jerry@live.co.uk
Dr Justin K. Herman
Manager, Hit or Miss Ltd.
Address:
 75 Martyr Road, Leeds, LE10 3FE
Tel:
 0980 5101 0022
Email:
JustinKHerman@gmail.com
Please note: The CV Example above is provided in UK format and layout.
Preview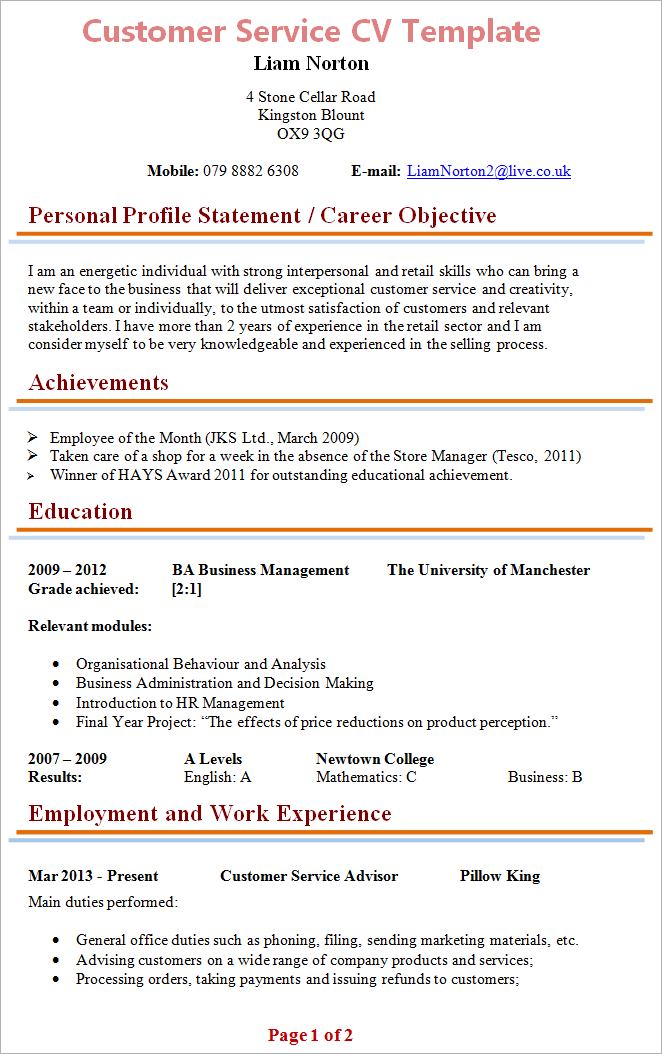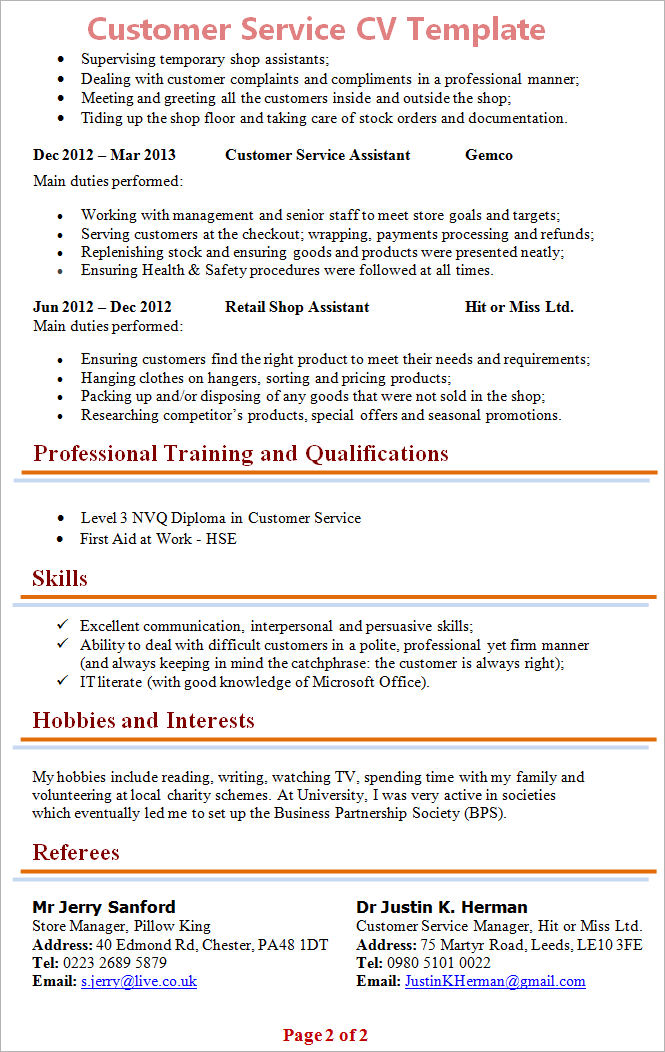 Download
Click here to download the above CV Sample (blank).
COLLECTION: You may also want to browse through our collection of Free CV Templates and download any of the editable CVs (in Microsoft Word format and convertible to PDF) to create your own CV.
Tips
Your CV should clearly show the reasons that would make you a great Customer Service Consultant if you were hired, eg Have excellent interpersonal and communication skills to respect customers and ensure all their needs and requirements are met, dealing with stakeholders and third parties on a daily basis, and a genuine concern for the success of the company you work for.
Good Luck!